Child's First Dental Visit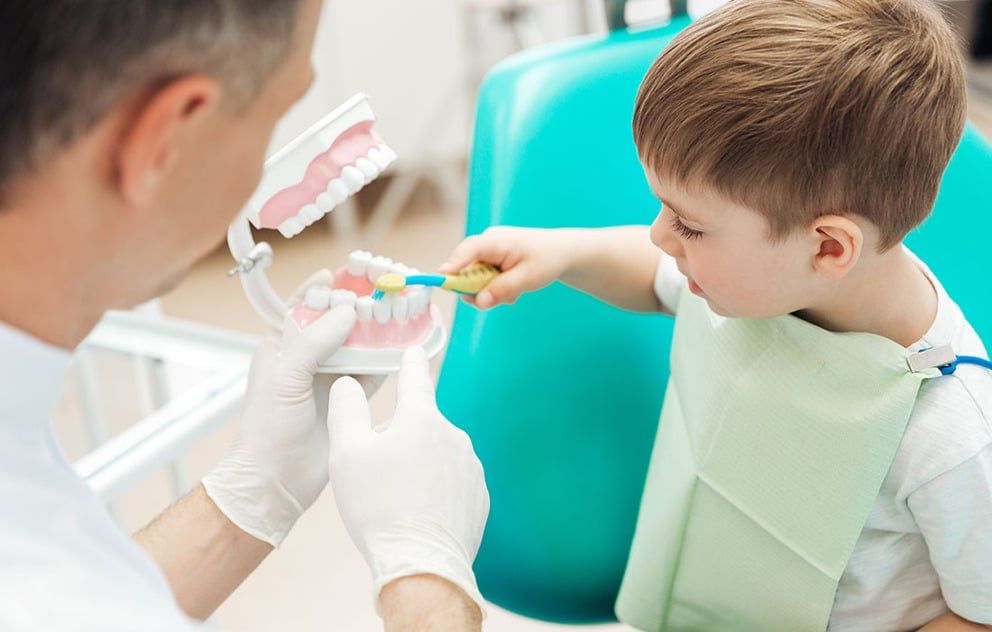 According to guidelines from the American Academy of Pediatric Dentistry (AAPD), your child should be seen by your child's pediatric dentist no later than six months after the eruption of the first tooth.
This visit mainly will involve counseling on oral hygiene, habits, and on the effects that diet can have on his/her teeth. It is NOT recommended to wait until age 3 to visit your dentist and as a general rule, the earlier the dental visit, the better the chance of preventing dental problems.
Children with healthy teeth chew food easily, learn to speak clearly, and smile with confidence. Start your child now on a lifetime of good dental habits.
The AAPD also recommends a dental check-up at least twice a year; however some children that may be at a higher-than-average caries risk may need to be seen more often.
In general, children need x-rays more often than adults. Their mouths grow and change rapidly. They are more susceptible to tooth decay than adults. Decay may progress to harmful degrees in less time than in adult mouths. The dentist will determine the type and quantity of x-rays needed to best assess your child's oral health.
X-rays allow dentists to diagnose and treat health conditions that cannot be detected during a visual clinical examination alone. When dental problems are found and treated early, dental care is more comfortable and affordable.
Particular care is taken to minimize the exposure of child patients to radiation. With contemporary safeguards, the amount of radiation received in a dental x-ray examination is extremely small and the risk is negligible.
Dr. Pivnik treats children. One of the best ways to keep a child cavity free is with proper home care instruction and with sealants. Sealants have been proven to prevent cavities but they do not replace proper hygiene. Ask Dr. Pivnik, your dentist in Gold River if sealants are right for your child.
Dr. Pivnik and the Staff at Gold River Pediatric Dentistry are experts in providing care for special needs patients. We are proud to provide regular dental hygiene care for medically compromised, autistic and handicapped children and young adults. Our hygienist, Pat, is the mother of a special needs young adult and she has the skills and understanding that allows her to provide superior hygiene care to our special needs patients. Shelley, our RDA, is also the grandmother of a special needs grandson and brings all of her skills and empathy to the forefront with these patients. Dr. Pivnik has special training in working with and providing treatment to autistic and medically compromised children. He has been privileged to provide care to these patients for many years.
Ryan, one of our special needs patients, has a fine smile. He has been our patient for many years... seventeen in all. He is a perfect example of how we work with special patients, and diligent parents and guardians in providing regular in-office dental care. Consistent hygiene appointments and exams enable us to catch problems early and acclimate the patient to regular care. Of course if something serious arises we provide the treatment in a safe familiar environment here in our office. We are proud to be Ryan's dental home. We look forward to taking care of his dental needs for many years to come.
Time is of the essence!
We are available 24/7. CALL US IMMEDIATELY

(916) 638-8778
There will always be someone to answer the phone that can help handle your emergency effectively
Accidents can happen during any physical activity. A mouth protector can help protect the teeth as well as the soft tissues of the tongue, lips and cheek lining. Over-the-counter stock mouth protectors are inexpensive, pre-formed and ready-to-wear. Boil and bite mouth protectors offer a better fit than stock mouth protectors. Softened in hot water, they are more adaptable to the shape of the mouth. Custom fitted mouth protectors are made from impressions of an individuals' teeth and gums. They are more expensive, but a properly fitted mouth protector will stay in place while being worn, making it easy for one to talk and breathe. Custom mouth protectors as especially recommended for use following prior injury to the mouth . Subsequent trauma can result in more serious consequences to previously injured teeth.
We at Gold River Pediatric Dentistry (GRPD), endeavor to provide our patients with the most current dental information and treatment methods. We want to be on the forefront of dental research as it relates to your child. Our office has been very involved with stem-cell banking using teeth as the source material.

Banking exfoliating or extracted teeth for collection of stem cells provides a simple way of obtaining non-embryonic yet potentially very useful precursor cells that may be able to treat a host of diseases and disorders. Dental-derived stem cells are successful at reproducing without degradation of quality according to early research results. They may be superior to such cells derived from other sources for a wide range of conditions. Your family may benefit in the future by having collected and banked the stem cells that are easily obtained now from your child's teeth. Scientists the world over are looking at stem cells as solutions to problems ranging from neurological disorders such as Parkinson's disease to diabetes to heart muscle replacement. We refer you to the website for National Dental Pulp Laboratory in Massachusetts, www.ndpl.net, (our cryogenic lab and depository) for the latest in developments in this exciting field.
Every routine exam in our office includes an assessment of the child's occlusion or bite.
Many times early intervention can greatly minimize or eliminate altogether orthodontic problems. This intervention may range from counseling for oral habits, to shaving the sides of individual baby teeth, to appliance therapy in our office. One of our most important services is the recognition treatment of developing malocclusions.
In some cases extensive early intervention is necessary and GRPD works with a large number of orthodontists. Throughout the area to ensure that this care is made available. Likewise, it is our goal to be sure that each child who needs routine orthodontic care gets referred to well qualified orthodontists at the appropriate time.
Schedule your appointment TODAY
Gold River Pediatric Dentisty would love to meet you and your family
and provide your children with the dental care they need and give them all smiles they deserve!